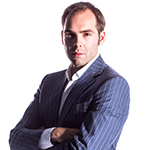 Flavien Casaccio is a laureate and finalist of several international competitions such as the Yamaha competition, "Les rencontres internationales des jeunes pianistes (epta)", the Exellentia competition, the international piano competition of Lagny-sur-Marne, ...  In chamber music, he forms a duo with the Belgian saxophonist Simon Diricq.
Flavien is official accompanist of the prestigious Adolph Sax International Saxophone Competition in Dinant as well as the IMA Dinant and Fort-Mahon music workshops.
Flavien began music at the age of five by learning the violin. But very quickly, he realized his attraction for the piano and began piano lessons with Olga and Eugène Moguilevsky (1st prize at the Queen Elisabeth Competition and both teachers at the Royal Conservatory of Brussels).

In parallel with his secondary studies, he entered the Arthur Grumiaux Conservatory in Charleroi in the class of J. Daune, where he finished his studies with the highest distinction and congratulated by a medal of honor from the alderman of culture of the Walloon region as well as the prize of excellence of the conservatory.
In 2004, he entered the class of Rosella Clini at the Royal Conservatory of Music of Mons. These few years of study were crowned with the highest distinction in piano and chamber music. In 2015, he obtained his master's degree in accompaniment in the class of Eugène Galand.

Flavien has participated in many master-classes with great teachers of international renown such as Nelson Delle-Vigne Fabri (student of Claudio Aarau), Phillippe Entremont (France), Stéphane Lemmelin (Canada), Robert Roux (USA), Jerome Rose (USA), Christopher Elton (Royal College of Music, London), Jun Kano (Japan), ...
He also had the opportunity to perfect his repertoire in chamber music and contemporary music with great specialists such as Jean-Philippe Collard-Neven and Claude Delangle at the Conservatoire National Supérieur de Musique de Paris.
He frequently participates in the creation of new pieces by young composers as well as those of renowned composers such as Claude Ledoux, Michel Lysight Geoffrey François. He regularly plays the works of Jean-Luc Fafchamps, Nicolas Bacri, ...

Flavien was guest pianist of the "4 seasons" festival in Brussels, a festival under the direction of P. Veneri and under the patronage of Martha Argerich.
He has given many recitals in various countries: Belgium, France, Montenegro, Monaco, Italy, Switzerland, Luxembourg, Canada, Russia ; he performed in large halls such as the Palais des Beaux-Arts in Brussels (BOZAR), the Théâtre des Martyrs, the Grande Salle of the Royal Conservatory of Brussels, the Alfred Cortot Hall in Paris, the Novosibirsk Philarmonia, the Concertgebouw in Amstrdam, ...
He has also performed many times with the Orchestre Royal de Chambre de Wallonie, the Arts2 Mons orchestra but also within the National Orchestra of Belgium with prestigious conductors.
He will also have been heard on the Belgian classical music radio "musiq3"; among others in the program "Big Bang" as well as on various television channels.
He peformed with manu partners, like Emilie Girard-Charest (Canada), Marie-Laure Coenjaerts,  Daniel Rubinstein, « La Cantalasne », David Cohen, Maja Bogdanovic, Alissa Margulis, Marc Sabbah, ... through various concerts and festivals in Europe (festival coté cour/coté jardin, festival Juillet Musical d'Aulne, Nuit musicale du Château de Seneffe, festival de Wallonie, les sons intensifs, festival Emergence, Concerts de midi à la bibliothèque royale de Bruxelles, Concerts de midi de la ville de Liège, Ars Musica, Fondation Biermans-Lapotre de Paris, Château de Behault, festival Contrastes, Siberian sax fest, ...).   
In 2011, he was chosen as an artist to represent the 20th anniversary of the Wallonia-Brussels federation in Paris.

He teaches and accompanies at the Conservatory of Tournai; he is also an accompanist at the École supérieure des arts, Arts2 Mons.