.
Master classes 2021.
Due to the Covid 19 pandemic, the City of Wavre and the Province of Walloon Brabant have informed us that they are freezing the provision of premises until June 30, 2021, to allow, among other things, vaccinations to reduce the risks and calm the situation. his measure deprives us of the possibility of organizing Master Classes at Easter, but we believe that classes can resume in the fall.  so, we will welcome you during the All Saints' Day or fall holidays. 
Master Classes 2021 - from 2021, October 30 to November 6

.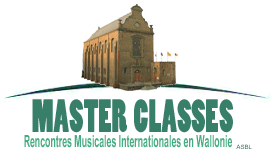 We are waiting for you with open arms for the 2021 session and we really hope to see you back in Wavre to play music together again.
We should be able to welcome you during the All Saints' Day or fall holidays. 
Registrations will officially open on September 1st, but we are offering you pre-registration starting already from July 1th.
Pre-registrations will be accepted WITHOUT any payment. Upon confirmation, after September 1, payment of the usual deposit of 175 € will be requested. This amount would of course be refunded if the MC 2021 were to be canceled again at the last minute.
Of course, to ensure everyone's safety, we will ask that participants can present a negative Covid test or vaccination certificate.
25th anniversary of the RMIW 
The RMIWs were created in 1997 by a Wavrian music lover, Madame Laure MERCIER, who wanted to promote young musical talents.
To guarantee the success of her project, Laure has surrounded herself with an artistic advisor, a renowned pianist, the soloist Christian Beldi, and a business manager, Mr. Christian de Cannière, who has unfortunately just passed away.
In 2021, we will therefore exist for 25 years!

Apart from 2020, every year we have held Master Classes and organized concerts.
2020 has been a year in which our activities have been muzzled, but in 2021, we invite you to celebrate our 25th anniversary together.
Master Classes 2022 - from 2021, April 9 to 16

.
The Team is happy to share the fact that in 2022, the Master Classes will be held again in the spring holidays, like usually.
In 2022, Eastern falls on April 17.