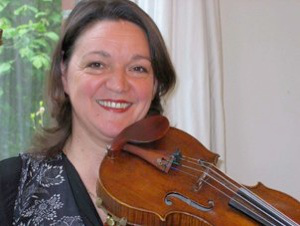 Brilliant laureate of the Belgian Queen Elisabeth International Musical Contest in 1980, Véronique Bogaerts is pursuing a remarkable solo and concert career, both in Belgium and abroad.
Numerous international competitions and tours throughout Europe, the Far East and America, mark the career of this sensitive violinist.
At each performance, the press salutes its rich and beautiful sound, its elegant virtuosity, its authentic sensitivity in the tradition of the prestigious Belgian School of violin: the artist was entirely trained by Master Carlo Van Neste.
Perfect chamber musician, she plays violin-piano duets as well as trio or string quintet and keyboard quintet (Ensemble César Franck). Her extensive repertoire allows her to perform many concertos of all eras, on stage with renowned conductors.
She has also participated in the juries of international contests, such as the Queen Elisabeth Competition in 1997 and 2001 and the Competition of Prague in 2004.
Véronique Bogaerts is a much sought-after violin pedagogue. Having started teaching at age eighteen at the Brussels Royal Conservatory of Music, she subsequently was nominated as a violin professor at the Royal Conservatory of Mons. She was also appointed for an Extraordinary professorship at the Chapelle Musicale Reine Elisabeth between  1997 and 2004.
Currently, In addition to her musical performances, she teaches at the Brussels Royal Conservatory and the Centre Eduardo Del Pueyo. Of course, she is also central n teaching violine in the RMIW.