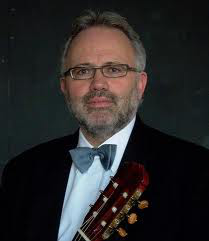 He was twice awarded First Price in international contests of classic guitar: the "Oscar Espla" price in 1977, Alicante (Spain) followed by the "Andrès Segovia" price in 1979, Palma de Majorque.
He completed his studies at the Antwerp Royal Conservatory of Music in 1979, obtaining the highest distinction for guitar and chamber music.
In 1980, he perfected his art with Oscar Gighlia and received the "Diploma di Merito" from the Accademia Musicale Chigiana of Siena (Italy).
Today, he teaches guitar at the Royal Conservatory of Music in Genth.
Yves Storms has performed in many concerts in Belgium and abroad (Europe, Asia, United States …).
Renowned soloist, he produced several CD's solo or playing with other famous artists.
His repertoire covers all styles and periods from the Renaissance and Baroque to contemporary compositions for guitar.
"Yves Storms is a guitarist of immaculate technique, vivid and refined musicianship, and a rare sense of inner focus in performance.
Hilary FINCH, The Times"
I you wish to follow this Maestro, visit his site www.yvesstorms.com.