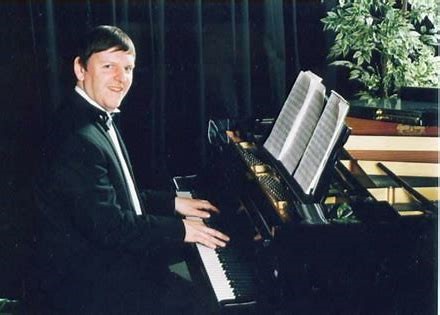 Pierre Liemans was born in Braine-le-Comte, Belgium, in 1961. After studying music at the Academy of Braine-le-Comte, Pierre continued his training at the Royal Conservatories of Liège, Brussels and Mons, where he obtained advanced degrees in piano, chamber music and organ, as well as various prizes in accompaniment and music composition.
1980 1st Price of Piano. ( class of Diane Andersen)
1980

1

st

Price of

written harmony
1981

1

st

Price of

chamber music
1984

1

st

Price of

accompanying (piano)

1984 Superieur diploma of piano (class of Diane Andersen)

1985

Superieur diploma of chamber music

(great distinction)
1987

1

st

Price of

organ
1988

1

st

Price of practical

harmony
1991

Superieur diploma of

organ (distinction).
He became accompanist at the Royal Conservatory of Mons (Belgium) and at the same time leads a career as a piano teacher, accompanist of national and international competitions, chamber musician and orchestral musician (piano or organ).
Pierre is regularly invited by main orchestras (like the National Orchestra of Belgium, the Chamber Orchestra of Wallonia, the Monnaie, the Liège Philharmonic Orchestra, the Antwerp Philharmonic Orchestra, the Mons Chamber Orchestra, ...) and by artists of international renown, (like José Van Dam, Walter Boeykens, Isabelle Kabatu ,...).
Pierre Liémans is also the entitled pianiste of different international competitions, like the "Torneo Internazionale di Musica de Rome", the International Saxophone contest "Adolphe Sax" of Dinant (Belgium)  or the "Pacem in Terris" contest of Bayreuth. 
Since1992, Pierre is also devoted to composition.
He began to compose didactic music for his pianist students, then gradually he wrote more complex works: sonatas for various instruments, chamber music (trios, sonatas, quartets).

In 2001, he composes for the first time a symphonic work, the "Christmas Millennium", a triptych for Choir, oOgan and Orchestra, on order, for the vocal ensemble Lyricanto.

In 2004, he won the first price of composition

with the clarinet and piano sonata op.22 at the Torneo Internazionale Di Musica (T.I.M.) in Rome.

This event will lead him to record a CD

c

larinettist Jean-Luc Votano.

En 2012, he composes the musical comedy "MINE" in collaboration with Christophe Leurquin

(

http://www.amicitiadour.be/mine

),

based on the mining past of his region Borinage.
Pierre Liemans is piano teacher at the academy of Quaregnon (Belgium) and accompanist for the saxophone, violin and clarinette classes of the Royal Conservatory of Mons, 'ARTS²',(Superior School of Arts of Mons).
Sites web : https://www.artsaucarre.be/enseignants/liemans-pierre/ et www.bayard-nizet.com/Liemans_fr.html
GSM :  +32 477  322 525