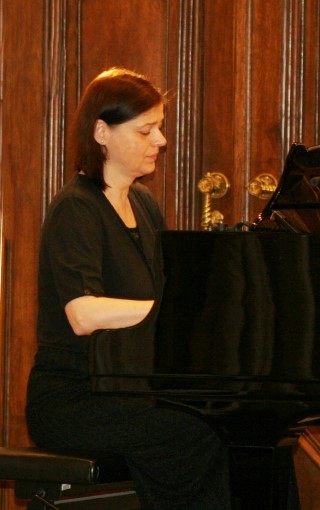 Rita MELEM was born in Budapest/Hungary. She earned her diploma at the "Franz-Liszt Musicacademy" with Prof. Bodoky-Krause in 1996. She also studied concert piano at the Music-University Graz with Sebastian Benda and vocal accompaniment with Gerhard Zeller.
Her curriculum shows
* Numerous concerts, among others, in Great Britain, Italy, Switzerland, Germany, Hungary, Slovakia.
* Radio- and Television recordings in Hungary and in the ORF (Austrian Radio),
* Several CD productions.
* Participation in many festivals like "Austria today" and "Vienna modern" (Vienna concert Hall), Carynthian  Summer, Styrian Autumn (Musikprotokoll).
Since 1987, she teaches at the Music University Graz. She is also a member of the ALEA-Ensemble (since 1990) and has an extended experience with the interpretation of contemporary music.
Rita Melem is a highly demanded piano accompanist for singers and violinists ; the Opera House Graz and the RSO-Vienna (Radio-Symphonic Orchestra) call for her as accompanist, and so do the RMIW.
Web site : www.alea.at
Landline : +43 316 421 870
Mobile : +43 650 421 7744