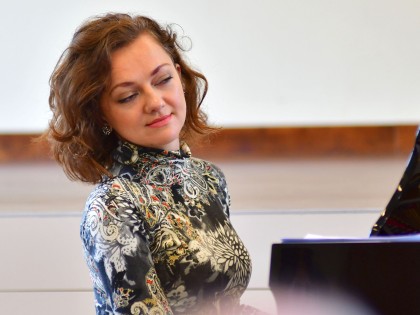 Born in Tbilisi, pianist Meri TSCHABASCHWILI belongs to her generation's most exciting Georgian musicians.
The first prize laureate of the International Rachmaninov Competition in St. Petersburg is a highly accomplished chamber music partner and accompanist. She performs regularly in her homeland of Georgia as well as Germany, Italy, the Netherlands, Switzerland, Spain, Belgium, China, South Korea and Mexico.
She works regularly with many musicians including Aleksey Semenenko, Asya Fateyeva, Alexander Hülshoff, Hayden Chisholm, Erik Schumann, and Ralph Manno. Her recent engagements include her debut in the Philharmonie Essen, and the Robert Schumann Hall in Düsseldorf.
Meri Tschabaschwili started her first piano lessons when she was just five years old, writing her own pieces at the same time. After just one year she played her first concerto with the Georgian State Orchestra, leading to more appearances with the orchestra. Shortly thereafter, she became the laureate of a number of national and international competitions, including the Borodin Piano Competition in St. Petersburg in 1998.
In 2000 she began her studies at the St. Petersburg State Conservatory in the class of Oleg Malov, she continued her studies at the Cologne Music University, studying piano with Vassily Lobanov and Andreas Frölich, and chamber music with Robert Kulek.
During her studies in Germany she received scholarships from the Yehudi Menuhin 'Live Music Now' Foundation, as well as the 'Villa Musica' Foundation. In 2014, in trio together with Aleksey Semenenko and Jinkyung Won she won the first prize at the Rolandseck Chamber Music Competition. She completed her studies with Distiction in 2016.
In 2017 she was a piano soloist at Theater Bonn in their production of Penthesilea, and since 2019 she holds a position as a collaborative pianist / associate professor at the Cologne Music University.